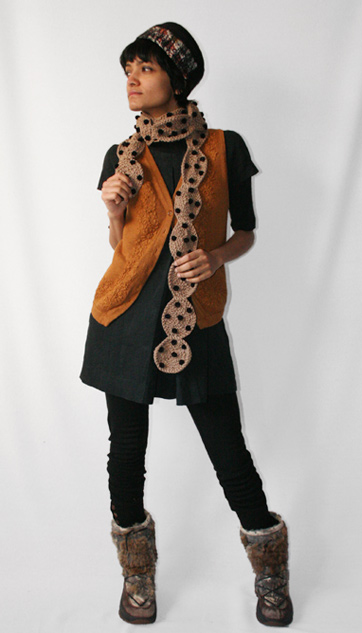 Day 277. Mon, February 01 2010
Mmm cookies...
Pillbox hat in black merino wool with kimono silk embellishment handmade by Lis Mertens. See more of her creations at lismertensfeltmaker.blogspot.com. Chocolate chip cookie scarf donated by Tara Gill of Pro-Portional Designs. Vintage vest from eBay and winter boots from Salvation Army. Sorry about the evening posts lately, work's been a bit too hectic.
Comments
---
Sue
tagged this
Cute
That's one of the best hats I've seen you wear. A cozy classic wool, yet with that great silk band to take it beyond basic.
Payal tagged this Good morning Monday!
What better way to start your week than with a charming little cookie scarf! What a fun idea! The hat is just precious! I love how this look is so simple and happy! You must've made quite a few people at/ on the way to your busy work smile!